ALL FIGURES AND PICTURES ARE THE PROPERTY OF SCOTT NUNLEY II AND _ARE NOT_ TO BE USED WITHOUT PERMISSION. IF YOU ASK AND GIVE CREDIT, PERMISSION WILL BE GIVEN!

Here you will find images of some of the smaller action figures that I have customized. I don't have a great deal of time to create these anymore and I seem to be moving on to larger & larger scales, for some reason. Most all of these figures are smaller than 8" tall.

Many of the following figures represent characters owned by various companies and corporations. No challenge to their ownership is meant by these pictures. All other characters are owned by me or close friends of mine!
_______________________________________________________________________________________________________________________________

The first figure is Marvel Comic's "The Enchantress", an Asgardian who has been a foe (among other things) of The Mighty Thor! I won a spot in The Wizard Guide to Comics "Homemade Heroes" section with this figure, as well as a bunch of neat prizes! You'll also find a scan of the page in the "Wizard" that she appeared in, below.



This is a figure of a character that my wife created: The Egyptian Godess "Isis". Her concept provides a unique twist on what the Egyptian "gods" really were. This was the costume design she choose out of about a dozen that I created. You can find the "comic" image HERE.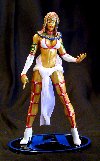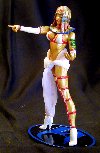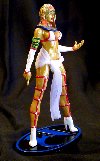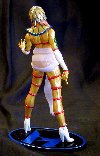 Here is the custom figure I created of one of my personal charcters, Quantum! You can find his SAGA wirte-up HERE and his GURPS write-up HERE (with Art by Scott Pittman- his HomePage is HERE)!
This odd custom was inspired by a trip to Dragon*Con in Atlanta, GA. My father, who GRACIOUSLY decided to foot the bill for the trip (thanks, Dad!!), concieved of the idea of this parody. Without further ado, the General of the Armies of Horm-Hell, SPAM!
This is a custome action figure of Shane "Queen" Vansen, a character from the Fox Sci-Fi war series, Space: Above and Beyond. S:AaB was a GREAT series that was, unfortunately, cancelled after only one season, which ended in a shocking "cliffhanger". I have tried to be as accurate as possible in recreating the costume. Oo-rah!
This a a figure of a character created by a friend, John Ayers. The character, Lord Infernus was an interesting one with a look that I thought was very unique.
Here is a character that was created by my friend Mark. Being a Police officer himself, it is not surprising that he created a character who was also a sort of "Law Officer". I think he's pretty cool! The character ws designed by Mark and Scott, my friend that owns the Dragonslayer Games website. Now making his LONG overdue appearance, the Interstellar Law-Man, the Galactic Guardian!